Welcome to the Boruto Wiki!
Edit
Welcome to Boruto Wiki! The next generation of Naruto is here.
We are currently editing this Wikipedia and you can help!
Be warned that this wiki is filled with SPOILERS about the Boruto series. This is your only warning, read at your own risk!
Naruto was a young shinobi with an incorrigible knack for mischief. He achieved his dream to become the greatest ninja in the village and his face sits atop the Hokage monument. But this is not his story... A new generation of ninja are ready to take the stage, led by Naruto's own son, Boruto!
Latest Chapter
Edit
Recognising as the 's son, sends his to deal with him. Boruto, however, easily dispatches all of the bandits present leaving Shojoji to deal with him himself. As Shojoji makes his move, calls out to Boruto to be careful that he's not eaten. Taken aback by the seemingly odd warning, Shojoji is almost able to take Boruto by surprise with his deceptive speed. Taking to the sky, Boruto is once again able to narrowly avoid being eaten by Shojoji before questioning whether his opponent was actually human. As Shojoji advances towards Boruto, he attacks with the -style technique which Shojoji repels with his technique. After his is also repelled, Boruto deploys a , using the added cover and his to land an attack Shojoji could not perceive. He is, however, captured and as Shojoji begins to break his neck, Tentō intervenes, attacking Shojoji with a . This diversion buys enough time for Boruto to attack Shojoji with his Rasengan, defeating him.
Latest Episode
Edit
Run Sarada
Sai investigates the hideout of Tanuki Shigaraki, a missing, former Rootresearcher who was an avid follower of Danzō, and in charge of developing a weapon based on Hashirama's cells code-named Gozu Tennō. Despite not finding him, Sai finds a picture of him with a little girl, and realises who the culprit is. Mitsuki reveals to Boruto that Sumire is the one behind the incidents. Shikamaru informs Naruto on Sai's discovery and current search for Sumire. He also informs Naruto complaints are being filed that the attacks continued to happen because the police force performed insufficient vetting of those involved. Kakashi arrives at the Hokage's Office, claiming responsibility for himself and Tsunade, having both decided not to expose the identities of everyone involved with Root. Read more...
Latest activity
Edit
Photos and videos are a great way to add visuals to your wiki. Find videos about your topic by exploring Wikia's Video Library.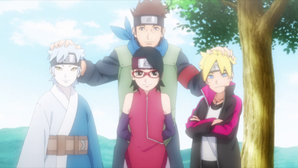 Ad blocker interference detected!
Wikia is a free-to-use site that makes money from advertising. We have a modified experience for viewers using ad blockers

Wikia is not accessible if you've made further modifications. Remove the custom ad blocker rule(s) and the page will load as expected.